Ambitious and worthy, Bollywood certainly is glad to have Aamir Khan. Churning out quality films whenever goes on the field, the actor always strives to bring the new and the better to his films. After Secret Superstar and his upcoming film Thugs Of Hindostan, the superstar has a long-term plan, something of which he's been dreaming for quite a while – the Mahabharata project. And judging by the updates Instagram brings us, Dangal girl Fatima Sana Shaikh could be set to star with Khan yet again.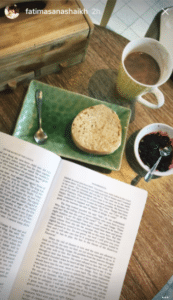 While promoting his film, Secret Superstar, Aamir had revealed, "My dream project is to make the Mahabharata but I'm afraid of starting the project as I know it will consume at least 15-20 years of my life. My favourite character is Karna, but I don't know if I'll be able to play him due to my physique. I may just have to play Krishna. I also liked the character of Arjun. He was the only person who asked Krishna why he had to kill his own people." And Fatima Sana Shaikh, who is in Thailand shooting for another schedule of Aamir's Thugs of Hindostan, recently put up an Instagram story reading Mahabharata, which makes us wonder if her preparations for the film have started already.
Even earlier this year Aamir had said, "My dream is to make Mahabharata one day, which I have not yet achieved or I have not even moved towards it. It's too scary as a dream, maybe that's why. It's a big dream and so let's see if I can do it one day." If Baahubali director SS Rajamouli were to dabble into Mahabharata, Aamir would love to be a part of that too, the superstar had said. Let's hope something materialises soon. Very soon. Keep following this space for more updates.