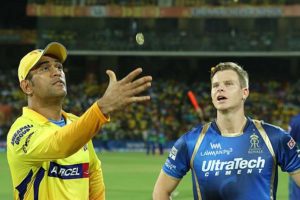 As the all-important meeting of the Indian Premier League (IPL) governing council coincides with the meeting of the Committee of Administrators (CoA) in New Delhi on Wednesday, and the focus returns on player retention and right-to-match options for the eight franchises, the onus will be on the BCCI to ensure a level-playing field.
All eight franchises need to be on the same platform. This is the mindset with which the BCCI first began work on the player retention policy and the idea of extending right-to-match cards for franchises.
TOI now understands that in the run-up to Wednesday's GC meeting, executives at one franchise in particular are "pushing hard" to ensure that Rajasthan Royals and Chennai Super Kings do not get to retain any players.
Given that line of thought, a squabble of sorts has erupted between franchises. TOI had reported a day after the meeting between IPL and the franchise owners on November 21 that teams could be allowed to retain two players and be extended two additional right-to-match cards before settling for a fresh auction in February, 2018. However, post deliberations, the Board could even settle for an overall mix of five retentions (including right-to-match) and franchises could be allowed to take their pick.
While that remains a policy matter requiring the GC approval, the bickering between franchises continues. When the Supreme Court, following recommendations of the Justice RM Lodha Committee, suspended Rajasthan Royals and Chennai Super Kings for two years, it did not come with any rider or directions on the choices/player options these franchises would have at their disposal upon return.
One franchise executive in particular, for reasons not shared publicly yet, does not want Royals and Super Kings to be allowed to retain any players. Those tracking developments say "such an idea is completely bereft of logic and is not fair on those two franchises at all".
In 2010, when BCCI auctioned off two new franchises – Kochi Tuskers and Sahara Pune Warriors – a fresh auction was held to ensure that they are given a level-playing field. In 2015, when BCCI introduced two franchises – Gujarat Lions and Rising Pune Supergiant – a draft system was introduced to ensure both teams a level-playing field. With Gujarat Lions and Rising Supergiant now out of IPL, there is no reason why Rajasthan Royals and Chennai Super Kings should not get to retain their share of players they lost after the Supreme Court order.
"All I can pray for is this doesn't lead to any unnecessary controversy. In the best interest of IPL, all franchises need to be dealt with on an equal footing," say those in the know of things.
The BCCI could well take this into serious consideration.
There are a couple of other franchises too, outside of CSK and RR, who have not been in favour of retention or right-to match cards. However, their demands lack logic considering other teams – that have invested in certain cricketer(s) over the last few years – may want to retain them keeping in mind the brand value of the players. "Just because they made wrong choices in their buys doesn't mean others should suffer," say others involved with affairs of the IPL policies.
Meanwhile, the governing council will look to hike the overall salary cap by Rs five crore (approx) for player auctions every year, going forward. In doing so, the salary cap of individual players may also get a pro-rata push. Those in the know of things say "increasing the overall cap substantially all at once doesn't make sense".
IPL franchise owners and the GC had discussed the idea of a mid-season transfer window every edition. While that may not see the light of the day in suggested form, BCCI is working on the idea of a mid-season loaning window for uncapped players during which franchises may be able to pick/loan uncapped players from/to other franchise. Players who end up warming benches throughout the season could see this as a shot in the arm.