Oh So Stoned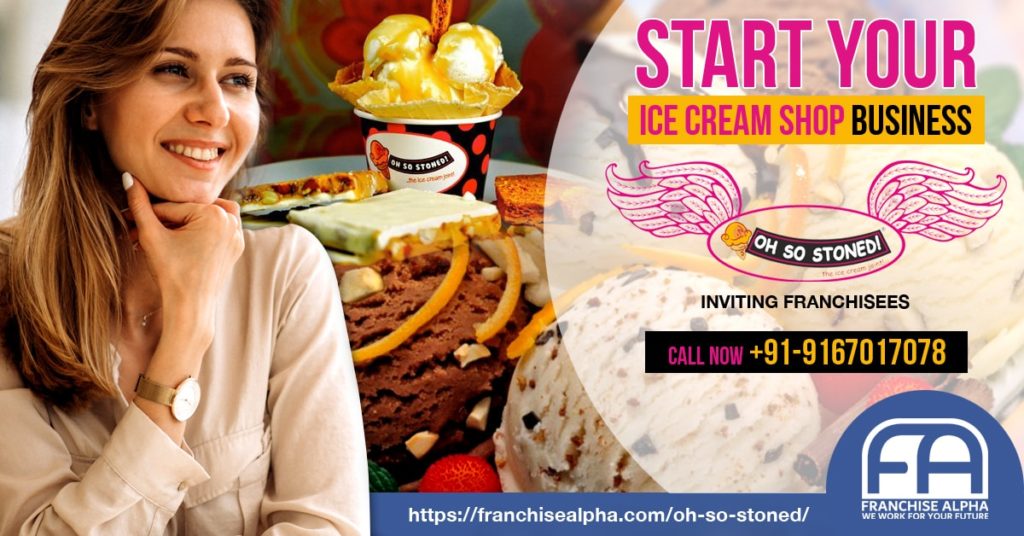 Oh So Stoned
About Us
We are quirky, we are innovative and we are totally original!
'Get high on Ice Cream' is our motto
Fusion of Real Desserts with Ice Cream is our USP. Be it Cheese Cake, Brownie, Banoffee, Tiramisu, Red Velvet, Mudpie… we have it all and we keep innovating
We even do alcohol flavored (Rum & Whisky) and even Paan… and true to our nature, it's the real deal – made in our central kitchen.
We take pride in the fact that we use the finest ingredients to make our own desserts, chocolates, sauces and use milk based ice creams. All our add-ins are made in-house in a centralized kitchen and our recipes are all developed by our in-house team
Our interiors are funky and reflect our attitude and brand.
Company Founded
• Founded by two ISB Grads in 2014.
Franchising Since

• First Franchise outlet launched in End 2016
Units (Current Locations)

• Over 20 outlets in 7 Cities
Units ( Available Locations)

• PAN India
Minimum Investment

• INR 19 Lakhs
Franchise Fee

• INR 5 Lakhs (Kiosk) to 7 Lakhs (Standalone Café)
Royalty Fee

• 6%
Area (Sq.Ft.)

• 150 sft to 700 sft
Return On Investment (Expected)

• 50%
Payback Period(Expected)
• 2 Year
Financing Assistance

• No
Number of Employees (Required)

• 4+1 Manager (Kiosk)
• 6+1 Manager (Café)
Training Support

• Yes, full training support is provided. Our team arrives 5 days prior to opening and begins the certification program. Post which, assists with the opening and supports the store team with the opening and ongoing training for each member for another week / 10days. Each responsible individual is trained in their areas, with more focus on audits and reports for the manager and the owner. Cost of travel / boarding etc to be bourne by the franchisee. New product training etc as and when required is provided.
Marketing Support
• Yes, all marketing collateral are designed and artwork is provided to the franchisees. The media spend / social media boosting, prinintg etc is done at the store level by the franchisee partner.
Training Locations
• Training is generally provided at the store itself; along with the setup. Any on-demand requirement in the future, the team member is to be sent to the location as per the company's discretion.
Training Days
• 7 to 10 days
Agreement Term
• 5 Years
Exclusivity Option
• For Café / Parlour (High Street) model 5km radius. This does not include any malls within this radius.
Renewal Term
• 30% reduction in franchise fee
Staff Recruitment Support
• Interview support is provided. But recruitment and retention is a key area that the franchisee partner would need to focus on.
Operations Manual Support
• All standards as per franchisee manual, which will be provided along with a soft copy and regular updates
Marketing Material Support
• All artwork and regular promotional creatives will be provided
Site Selection Support
• Yes, We have a network of real estate consultants.