MUMBAI: Until a generation ago, every school campus had its own distinct culture. 'Branches' were what banks had and the term 'franchisees' was reserved for those who sold consumer products. Today, mums and dads are wondering what to make of the boom in schooling.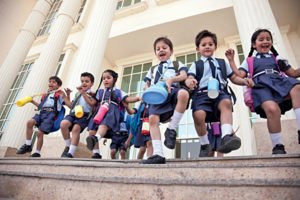 Pan-India presence, mergers, takeovers, SOPs and rural expansion are all trends in education. Spread over dozens of campuses, Delhi Public School, Eurokids, Ryan International, Mount Litera, Edify and Gowth-am Model are among those that have followed a scalable, franchisee model to enter Tier II and III towns. Others like DAV, Podar, National Public and Vibgyor own the institutes they run and oversee an empire that hos-ts lakhs of children and hundreds of tutors. Most of them run as charities or trusts whose incomes are exempt from tax.
While some educationists lament the demise of public schooling, these edu-conglomerates keep growing, and in the process, pose a dilemma to parents: should they trust a brand to educate their children, an old-fashioned missionary institution, or a new-fangled boutique?
According to PTA president Arundhati Chavan, many families sense a cultural difference between schools based on a franchisee model and those which own and manage their own campuses. "I am not against the idea of expansion, of those having a chain of schools. But I feel that the schools must deliver quality education, keep their promises about the deliverables and make sure that they employ trained teachers and pay them well," says Chavan.
New managements, regardless of the model they follow, claim to run a tight ship. Mount Litera School International with five campuses of its own and 105 franchisees has auditors, business managers and manuals th-at affiliates need to adhere to. "We have academic managers who report to a regional direct-or, each of whom handles five schools. The audit team of each school monitors the rest—from lawns to benches, from safety measures to other infrastructure," said a group official.
Some like DAV and Podar say they do better when running the schools themselves. Jose Kurien, regional director of DAV group of schools, says, "At DAV, all decisions are taken centrally by a governing body, which has given total power and responsibility to the principal. All compliances must be reported which sets responsibility." DAV does not follow a
franchise
model, but uses a set of rules to ensure uniformity. "Since our model isn't about profits, it helps us maintain standards at all our schools," says Kurien.
But for what really drives the expansion, those working closely with managements say the profit motive is increasingly the priority. While most schools run as societies or trusts that are tax free, some are founded as not-for-profit firms . Each geography or market, say experts, is thus handled in a unique way, depending on availability of land and the rules of the state.
In the past decade, VIBGYOR has grown to 29 schools. In the next academic year, the group will introduce four schools, one in Pune and three in Bengaluru. "Our target is to open 50 schools by 2020. Curriculum to be offered is decided on the basis of the need of a particular city," says Kavita Sahay, vice-chairperson of the group. The group is also offering low-cost schooling through its brands Vibgyor Roots and Vibgyor Rise. While these schools promise not to compromise on quality and philosophy, their fees would be approximately 25% less.
Such large chains also adopt different business structures. In some cases, the entity which runs the school trust could parallelly have an infrastructure company which leases space for a school. The trust would pay this firm rent. In others, the trust sets up a management firm to which all manner of work is outsourced. Such firms are tasked with
training
and hiring staff and carrying out daily administration duties. The third is the
franchise
model where a separate company manages the brand and earns royalties and commissions from franchisees who bear the name of the institution. But all these arrangements work in an environment in which there is little oversight or monitoring by agencies like education department or charity commissioner. Some have also resorted to takeovers to grow. Instead of setting up greenfield campuses, they acquire institutes, give them a makeover, introduce procedures tested in group institutions and round it off with the promise of a brand-new experience.
Whether this expansion will slowly wipe out single entity schools or only buttress the public's faith in them, only time will tell.