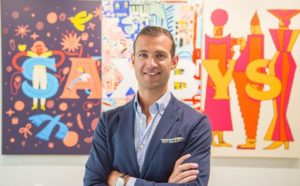 Nick Bayer didn't even drink coffee when he took a dive into the coffee business in 2005, starting Saxbys with one café in Atlanta financed with credit card debt and a misbegotten plan to franchise. Three years later he declared bankruptcy. But he learned from his mistakes, and with cash from a private equity firm, he revamped the business. He bought back all but three franchises and opened new cafés, locating them in urban centers like downtown Philadelphia, where Saxbys is now based, downtown Washington, D.C., and on college campuses. Among the things that set Saxbys apart from Starbucks: ultra-friendly customer service from its 400 employees and the unique designs of each of its shops. Bayer, 39, says he expects his 27 cafés will bring in 2017 revenue of $15 million. In this interview, which has been edited and condensed, he explains how Saxbys is trying to compete in the crowded coffee business.
Susan Adams: Where did you get the name Saxbys?
Nick Bayer: I wanted to sound unique and aspirational and to have a luxurious feel and Saks, Starbucks and Sotheby's were big brands doing great things. The name Saxbys was totally made up, assembled from those names.
Adams: Why did you decide to go into the coffee shop business when there was so much competition from Starbucks and other chains?
Bayer: I'm a big pie guy. I argue that there's not a glut of coffee places. We continue to see the coffee business grow.
Adams: How will we know when there's a glut?
Bayer: When you start to see a market correction among the bigger companies. In '08 and '09 Starbucks closed 900 locations. I think a market correction will happen again sometime within the next two years but I think it will be a short-term glut.
Adams: What were you planning to do to distinguish your coffee places?
Bayer: For me it's always been about hospitality. But for the first five years we were a me-too product business. I was 25 years old and didn't know much about anything. My heart and my mind were not totally connected. Every other company was focused on products and I thought I had to be too.
Adams: Why did you start out as a franchise business?
Bayer: It was foolish. I didn't write a business plan and I capitalized the business with my credit card. Those are two of the worst mistakes you can make. My third mistake was starting a franchise.
Adams: Wasn't it tough to sell franchises when you didn't start with a flagship business?
Bayer:  Unfortunately it's not that difficult to franchise. For two years I didn't pay myself a penny. The franchise fee was $10,000, which later went to $20,000 and the franchisees pay a royalty of 6% of gross revenue.
Adams: What's wrong with that model?
Bayer: When you only have two franchise locations grossing $500,000, you get $60,000 of royalties a year. But you have to pay for IT, product development, marketing and human resources. That requires at least eight employees and there's no way you can pay eight people on $60,000 a year.
Adams: How difficult was it to sell franchises?
Bayer: Another hard lesson I learned was that a lot of people who were interested in our business were turned away by Subway or Jimmy John's because they didn't have enough money. In two years we sold 15 to 17 franchises but only 6 or 8 of those opened. It was far from enough to drive a successful business.
Adams: How did you keep from going under?
Bayer: In 2008, we brought in our first angel investor, based in Philadelphia. I finally wrote a business plan. But it was 100% predicated on franchising. The investor was one of the landlords of one of our locations in Philadelphia and he asked me to move there from Atlanta.
Adams: What happened to the business once you had more capital?
Bayer: The transaction immediately created litigation with former investors in Saxbys and the litigation became a huge cash drain and a huge drain on time and effort. Our accountants and lawyers came to us and said, we feel like you're on the right side of things but if you want to end this, you should put the company into Chapter 11. That was in 2009 and it took more than two years to come out of the reorganization.
Adams: How did a private equity firm become an investor in Saxbys?
Bayer: MVP Capital bought the company out of bankruptcy and for the first time, capitalized us for growth.
Adams: How much did they invest and what attracted them?
Bayer: A very significant amount of money. They believed in my vision and they liked the industry.
Adams: What percentage of the business do you still own?
Bayer: Less than a majority. MVP is the majority owner.
Adams: How did MVP affect your business strategy?
Bayer: Our investors said two high-level things to me. They said, you won't make money unless you learn to spend money. Second, we're not here to run the business for you. I realized we didn't have a defined culture and I started asking myself, what is Saxbys, what's our core mission? Second, we weren't operating our own units. I needed to rectify those two things.
Adams: How did you figure out what your mission was?
Bayer: We hired a hospitality industry consultant, Ed Doherty. We had many brainstorming meetings. At that point, our revenue was $1 million. He also helped us write our mission statement: We want to make a difference through employment and opportunities and through putting smiles on people's faces.
Adams: What about the private equity firm's advice that you should spend money?
Bayer: We spent several million dollars buying back franchises and opening our own cafés, which cost between $300,000 and $500,000 each. We've opened 15 or 16. At this point we only have three franchises left in the system and we're opening a new location every month.
Adams: What distinguishes Saxbys from other coffee places now?
Bayer: We believe as much in making a cultural impact as in making money for our investors.
Adams: Are your investors onboard with that?
Bayer: They are as long as we perform.
Adams: How are you making a cultural impact?
Bayer: One way we want to make a difference is through our employment practices. We hire people based on their personality, not their coffee knowledge. We like to say we're an opportunity and education company. We've hired from the Philadelphia chapter of Covenant House, a national organization that runs homeless shelters for young people who've aged out of foster care and we've hired a dozen people from YouthBuild, which helps young people who've dropped out of high school.
Adams: How many of those dozen worked out?
Bayer: About half. We're realists.
Adams: What does it take to train people who may not have had a successful employment experience?
Bayer: Patience.
Adams: How do you work with colleges and universities?
Bayer:  We have a dozen Saxbys cafes on college campuses, a quarter of which offer experiential learning through jobs in our cafes.
Adams: Are the students paid employees and do they get school credit?
Bayer: Yes, they're paid market-rate salaries. Each location is run by a café executive officer, or what we call a CEO. They're trained to look at each café as a stand-alone business. They have full responsibility for their team, for their marketing plan, their profits and losses. They come into our office once a month and present their plan. Our CEOs earn bonuses based on three things—revenue, profits and how many of their team members get promoted. Our student employees get a full semester of credit.
Adams: Do they take classes at the same time?
Bayer: No. It's too difficult to do both.
Adams: Besides your emphasis on friendly service, what distinguishes Saxbys cafés for customers?
Bayer: Most coffee chains have a singular design. We're the complete opposite. Each café is designed with the community in mind.
Adams: Doesn't that make it harder to establish the brand?
Bayer: I don't think so. The only way I can back that up is with the continued growth and success of the business.
Adams: Given what you know now, if you could give advice to your 25-year-old self, what would it be?
Bayer: First you should go work for another company like Starbucks or Blue Bottle and understand the ins and outs of the coffee business. Then take those lessons and write a business plan. It will force you to understand what you're going to do differently.
Adams: How big do you want to get?
Bayer: Things change so quickly, we don't have a plan past three years. We'd like to double in size. We did build this company to grow it.