Flip Flop Shops announced plans today to establish and develop 30 plus retail locations and an e-commerce presence throughout India.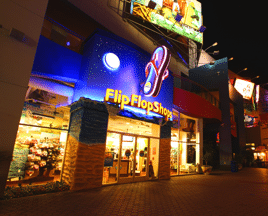 The shop development plan is part of a master franchise agreement with Open Spirit Enterprises owned jointly by the Solar Group & Elite Group, both leading retail, distribution, and brand management companies. Over the last two and a half decades, the two groups have established themselves amongst India's premier partners-of-choice for fashion brands. The first Flip Flop Shops location is expected to open in early 2018, with additional shops opening throughout the region over the next 10 years.  The expansion plans also call for future growth in Sri Lanka, Maldives, Bangladesh, and Bhutan.
Flip Flop Shops, a global retail company that encourages everyone to "Live…  Work… Play  With Their Toes Exposed®", is exclusively devoted to the hottest brands and latest styles of flip flops, sandals, casual footwear, and related lifestyle accessories. Through innovative marketing, philanthropy, and retail experiences Flip Flop Shops aims to help you "Free Your Toes®" to live a healthy, stress free lifestyle. Expansion into India parallels unprecedented growth in consumer trends towards embracing a healthy, active, and relaxing lifestyle.
"Footwear retail in India is growing at more than twice the rate of the global footwear industry and this is an exciting opportunity for us to develop the market with a key player in the footwear, fashion, and retail segments", said Brian Curin, President and Founder (size 10) of Flip Flop Shops.  "We have established ourselves as the unequivocal destination for the category in North America, the Caribbean, and South Africa, and we look forward to doing the same throughout India, as the Indian lifestyle and Open Spirit Enterprises embody what Flip Flop Shops is all about – living…working…and playing with your toes exposed".
The Solar Group & Elite Group maintain the largest franchise retail operation in Western India, giving them access to the most sought-after retail real estate and locations. Currently they retail and distribute high profile brands such as Calvin Klein, Arrow, Clarks, Raymond, Color Plus, Mineral, and Rider Sandals throughout India. They have helped over 50 global and Indian brands launch in the region including Nike, Reebok, and Pepe Jeans.  Their wealth of experience across retail, consumer trends, and real estate development makes them the perfect partner for Flip Flop Shops.
"We are very excited about our partnership with Flip Flop Shops, the global leader in flip flop retail and look forward to leveraging their domain expertise and experience combined with our strengths in footwear and retail to develop the country's largest flip flop retail chain", said Yashesh Mukhi, Founding Partner (size EUR 44) of Open Spirit Enterprises. "Given India's young demographic, growing preferences towards a more casual lifestyle and increase in leisure travel, we believe it is an opportune time to be the first mover in the category."​
Development plans for the concept will be accelerated with Flip Flop Shops' flexible retail format including, traditional inline shops, shop-in-shop model, and the newly developed "Floating Retail" model, allowing Flip Flop Shops to locate and operate in virtually any given opportunity.
"India's younger demographic makes Flip Flop Shops an ideal opportunity given the changing tastes and preferences. The younger consumers are increasingly adopting a casual lifestyle and open footwear is the new style statement", said Gaurav Agarwal, Founding Partner (size EUR 42) of Open Spirit Enterprises. "We are excited about our partnership with Flip Flop Shops and look forward to bringing the coolest trends in open footwear to the Indian market."
About Flip Flop Shops
Flip Flop Shops is a wholly-owned subsidiary of Cherokee Global Brands (NASDAQ: CHKE). Founded in 2004, Flip Flop Shops® is the authentic retail chain exclusively devoted to the hottest brands and latest styles of flip flop, sandals, and casual footwear. Its mission is to live to create innovative ways to "free your toes®" to promote a casual, healthy, stress-free lifestyle. In addition to being an Environmentally Responsible Retailer™, Flip Flop Shops has established the Free Your Toes Relief Fund™ to raise charitable donations for those affected by natural disasters. The company launched in 2004 and operates shops globally through its franchise platform.  Flip Flop Shops has been awarded the International Council of Shopping Centers' prestigious "Hot Retailer Award", and has ranked multiple times on the Inc. 500|5000 list of America's fastest-growing franchise companies.