Gautam Gambhir, the skipper of Kolkata Knight Riders (KKR) in the Indian Premier League (IPL), scored a match-winning century for Delhi in the Ranji Trophy semifinal against Bengal this week.
With the Indian Premier League (IPL) Governing Council asking franchises to name their retained players by January 4, three weeks before the auctions, all eyes are on former India captain Gautam Gambhir who has led Kolkata Knight Riders (KKR) to the title twice and the playoffs on three occasions in the seven seasons he has led them.
The KKR skipper, who scored a match-winning century for Delhi in the Ranji Trophy semi-final against Bengal this week, helping his side reach the final, says he has not yet had any word with the franchise owners.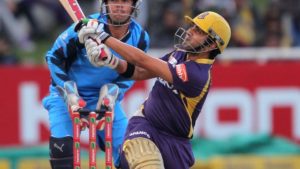 "It is very surprising that I have not spoken to anyone (in KKR management). I don't know about myself (future with KKR). We'll probably sit and talk after the Ranji final. But yes I am (open to playing for any franchise). You have achieved so much for KKR. You have done whatever you could. If things do not work out in future, the good part is that you are leaving a franchise on a good note, when it has become a successful franchise. Not when you were struggling," says Gambhir, who had earlier shown interest in playing for Delhi Daredevils. "As a professional, you want different challenges. There is nothing wrong in it. That'll keep you motivated and hungry."
Known as a head-strong captain, wanting his own kind of players, the former Delhi skipper had run into trouble with the Delhi selectors, coaches, administrators and curator on many occasions. He was replaced by young Rishabh Pant last year as Delhi skipper. However, one of his finds vindicated his faith on Tuesday, anointing Gambhir as the force behind Delhi's success.
Paceman Navdeep Saini fired on all cylinders, running through Bengal with a seven-wicket match haul in the semi-final that Delhi won by an innings. Saini was inducted into the Delhi Ranji side in by Gambhir in 2013-14 without any local cricket behind him. The decision created a furore.
"He (Saini) has improved. The first thing that struck me was his natural pace. It is something you can't develop. He had it in him. Credit to him, he grabbed the chance with both hands," said Gambhir on Wednesday. "There are many players who are talented but they don't get chances. You shouldn't deny them opportunities."
Called up by the India team for nets in South Africa, the paceman from Karnal opted to stay back to play for Delhi in Ranji Trophy on Gambhir's insistence.
"You can take anyone for nets, there are so many bowlers in the country. But you can't ask a bowler to skip first-class cricket and bowl at nets. What is the point of having first-class cricket then. You don't play cricket to play in the nets, you play cricket to play matches."
While India lost the previous series in South Africa, in 2013-14, they drew the one in 2010-11. And the former India opener did well at the top in the two games he played then, averaging over 60 with three half-centuries. "India will have to put runs on board in South Africa and the openers will have to play a key role. India have a settled opening pair in Shikhar Dhawan and Murali Vijay. In a place like South Africa or for that matter anywhere, seeing off the new ball shouldn't be the main focus. That is a very negative thing. They should score runs and provide the start.
"But I think there'll be a result in all the three matches. I can't predict which way it'll go. But for India to do well, they need runs to give their bowlers a chance."